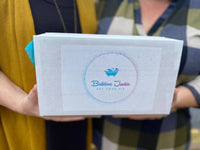 Bathtime Junkie Subscription
Get your bathtime fix with us!
**Feeling stressed trying to do all the things? Self care is not only me time, it's me too time! You deserve & need to relax, even if it's only for 15 minutes. Being good to yourself is priceless.
**Your bath fun can be yours to enjoy monthly. Pour your favorite drink & bring out the fancy chocolates & strawberries, open up your Bathtime Junkie goodies and run to the bath. Enjoy it by yourself or invite your significant other to join you.
**Perfectly bath party themed & curated fun pampering time to celebrate you and your well deserved me time!
**No commitment- you may cancel by the 10th of the month for the next months box.
**Some Exclusive items only available with our monthly box
**Each month valued at $70 minimum
**Free items periodically offered
**20% Discount on regular priced items each month-excluding subscription box & bundles
**Shipping is $9.95 for each box. If you prefer to pickup your Bath Box at Bathtime Junkie Store each month, place your order and message or email us and we will credit your $9.95 shipping fee charged on your first box to your next months box as a credit and will be charged $39.00 plus tax.
Yes, please! I want this!
About Bathtime Junkie & Southern Dirty Girls Soap
Hello Y'all. We are Marianne, Alicia, & Jazmyn. Southern Dirty Girls Soap began in 2010. Our first bars of soap were something special. So special they were for family use only! We have grown and evolved our line over these past 10 plus years. Our line now consists of soaps, bath bombs, bubble bath bars, scrubs, lotions, wax melts and so much more.
We are three generations of women working for women. As women and 2 of us Mothers we know how easy it is to forget about meeting your own needs. We always put ourselves on the back burner. To put into ourselves what little (if any) energy we have left after meeting our family & friends demands on our time & energy.

We say no more! "Me-time" doesn't mean "only me" or "me first" it means "me, too". A recharge is necessary because you cannot keep giving from an empty battery. You deserve guilt-free me-time. We all do.

Our subscription box Bathtime Junkie, was born out of the need for refilling ourselves. We wanted to provide an experience, not only when opening the box but also by giving you a bath party in your bathroom!

Our store is located at 102 N Church St, Hahira, Ga. We are the cutest dang soap shop in all of Lowndes and the surrounding counties. Contact us at (229) 834 - 9411 or customerservice@bathtimejunkie.com
"When you make an order and upon arrivals there's a hand written message..THAT makes all the difference! Thank you!!! I'm loving the coffee scrubbing soap.  It really gets off the Georgia dirt!"

Hannah
I love your Lip Balms.  They are the Best!

B. Trotter
I received all my goodies today!!  Every time I get a box it seems like Christmas!!!  Love it !!!!

L. Smith