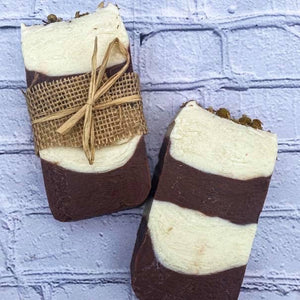 Nothing more natural than getting Butt Naked, grab you one while you can this scent is steaming!
Tantalizing fragrance medley of granny smith apples, honeydew melon, strawberries and pears, with hints of spice.
Weight 5 oz./141 gram bars.

Ingredients: Olive Oil, water, Coconut Oil, Water, WSPO Palm Oil, Sodium Hydroxide, Shea Butter & Castor Oil, Tussah Noil Silk, vitamin E, Chamomile, fragrance, D&C Cosmetic Colorants may include, Oxides, Ultramarines, Micas, fluorescents, neons, titanium dioxide.
Southern Dirty Girls Soap label
Product design may vary from picture.