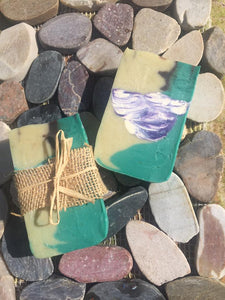 HEY! you Dirty Hippie, you know we're talking to you! Who here is a Patchouli lover? We use Dark Patchouli Essential oil for this favorite, and that why it is a favorite with Patchouli fans!  Our Dirty Hippie soap is  made with fresh goat milk also for a nice creamy lather.  

Net Weight: 5 oz./141g
Ingredients: Olive oil, 100% Fresh Goat Milk, Coconut Oil , RSPO Palm oil, Sodium Hydroxide, Shea Butter, Avocado Oil, Cocoa Butter, Castor Oil, Patchouli Essential Oil, Vitamin E, Spinach Powder or Matcha Powder, Walnut Powder, water, hydrated chromium green oxide, ultramarine violet, titanium dioxide.
Product design may vary from picture.  Current soap design is light green on one half side, darker green on one half other side, small amount of dark brown, with purple and white swirl in the middle