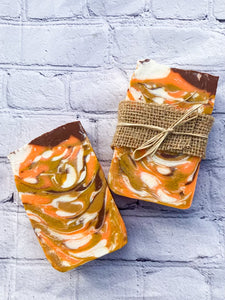 Description
Strolling the backroads under the canopy of old oak trees, arm in arm with your partner. The soft breeze tingling across your skin while mesmerized watching the sunset against the darkening tree line. You can feel stress of the day releasing in the moment, smiling, giggling & flirting while making midnight plans. It's getting hot here!
Enticing notes of sandalwood, amber, musk and vanilla.

Net Weight 5 oz/141g

Ingredients: Olive Oil, Water, Coconut Oil, RSPO Palm Oil, Sodium Hydroxide, Shea Butter & Castor Oil, Tussah Noil Silk, fragrance, FD&C Cosmetic Colorants include, Oxides, Ultramarines, Micas, fluorescents, neons, titanium dioxide.
Product design may vary from picture.